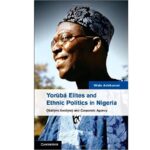 Yoruba Elites and Ethnic Politics in Nigeria
₦12,000.00
Wale Adebanwi demonstrates how the corporate agency of the elite transformed the modern history and politics of one of Africa's largest ethnic groups, the Yorùbá.
Description
Additional information
Reviews (0)
Description
Yorùbá Elites and Ethnic Politics in Nigeria investigates the dynamics and challenges of ethnicity and elite politics in Nigeria, Africa's largest democracy. The argument is organized around the ideas and cultural representations of Ọbáfemi Awólowo, the central signifier of modern Yorùbá culture. Through the narration and analysis of material, non-material and interactional phenomena – such as political party and ethnic group organization, cultural politics, democratic struggle, personal ambitions, group solidarity, death, memory and commemoration – this book examines the foundations of the legitimacy of the Yorùbá political elite. Using historical sociology and ethnographic research, Adebanwi takes readers into the hitherto unexplored undercurrents of one of the most powerful and progressive elite groups in Africa, tracing its internal and external struggles for power.