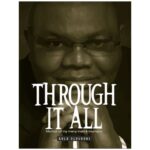 Through It All: Memoir of My Many Trials & Triumphs
₦2,000.00
Through It All is the title of a book written by Kola Olugbodi. He used it as an instrument of encouragement and hope for those going through life challenges. He used several woes and troubles he has suffered from his childhood to adulthood to encourage others: living with disability from age 2, cope with stigmatization. Growing up, Kola resigned from his job in a bank after escaping from a fraud allegation by the whiskers. He decided to become an entrepreneur, but he got his hands burnt and roasted several times. He eventually set up a commodity business that seemed to have been doing well but eventually nose-dived and lands Kola is very huge debts and a court case.
Description
Additional information
Reviews (0)
Description
Kola lost everything in the long run, including his house and almost his life what it means not to have anything- no work, no home, no money, no food, no friend, no child, no nothing except a loving and an ever hope, ever believing wife! Things changed and he became the pioneer background screening industry in Nigeria. He got blessed with two lovely children, became the owner of his own house and business. The only thing that never changed was is disability status, but the status stirred up an enviable can-do spirit in Kola. Through It All is indeed about "going through it all in life and yet winning"​.
About the author.
Kola Olugbodi was born on August 6, 1965, in the city of Lagos to Mr. Joshua Oyedele Olugbodi and Mrs. Grace Olabisi from Ara town, Osun State. He attended Atunda-Olu School for the Handicaps for his primary education from 1971-76. For his secondary school education, he started with Baptist Academy, Obanikoro-Lagos in 1977 but concluded at Ede Baptist High School, Ede Osun State in 1983.
He is a 1988 Bachelor of Science (BSc) graduate of Demography & Social Statistics from the Obafemi Awolowo University, Ile-Ife. Kola Olugbodi pioneered the background check industry in Nigeria and he is currently the CEO of Background Check International, Nigeria's first background check company. He is currently Africa's leading background check expert, and the Chairman, Board of Trustees of the Association of African Professional Background Screeners.
Additional information
| | |
| --- | --- |
| Author | Kola Olugbodi |
| Isbn | 978-978949-0936 |
| Publisher | Through It All Production |
| Cover | Paperback |
| Pages | 138 |